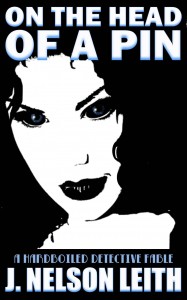 If you've ever played a video game, you've probably heard of hidden content called (for obvious reasons) "Easter eggs."  Everyone loves finding the secret levels in the Mario games, or the funny signs stashed here and there around Liberty City.  Easter eggs are like little winks and nods from the designers to players in the know.
But video game designers aren't the only writers who like sneaking hidden content into their work.  Although the term "Easter egg" has only been applied to these winks and nods with the advent of video games, the phenomenon has long been known to literature.  For example, in Raymond Chandler's premier detective novel The Big Sleep, the name of porn dealer Arthur Gwynn Geiger contains an amalgamation of the names of the King and Queen of Camelot.*
One of the first things I noticed about John Nelson Leith's hardboiled urban fantasy novella, On The Head Of A Pin (available for Kindle and Nook), is that it is filled with Easter eggs—the intriguing thing is that many of these Easter eggs are actually about the Easter season.
I won't give any of them away but, although I was hesitant to make the connection at first, (considering the racy content of the story) those winks and nods eventually won me over.  When I finally asked John, "Is this is a Passion play?" he just grinned, snapped his fingers, and pointed at me.
How many Easter eggs can you find in On The Head Of A Pin?
_
* John told me about that one; I'm not as big a fan of old detective novels as he is.  The critical work in which he found that little Easter Egg is The King Arthur Myth in Modern American Literature
by Andrew E. Mathis, which J highly recommends.